Summer course in July 2016 in Spain, Málaga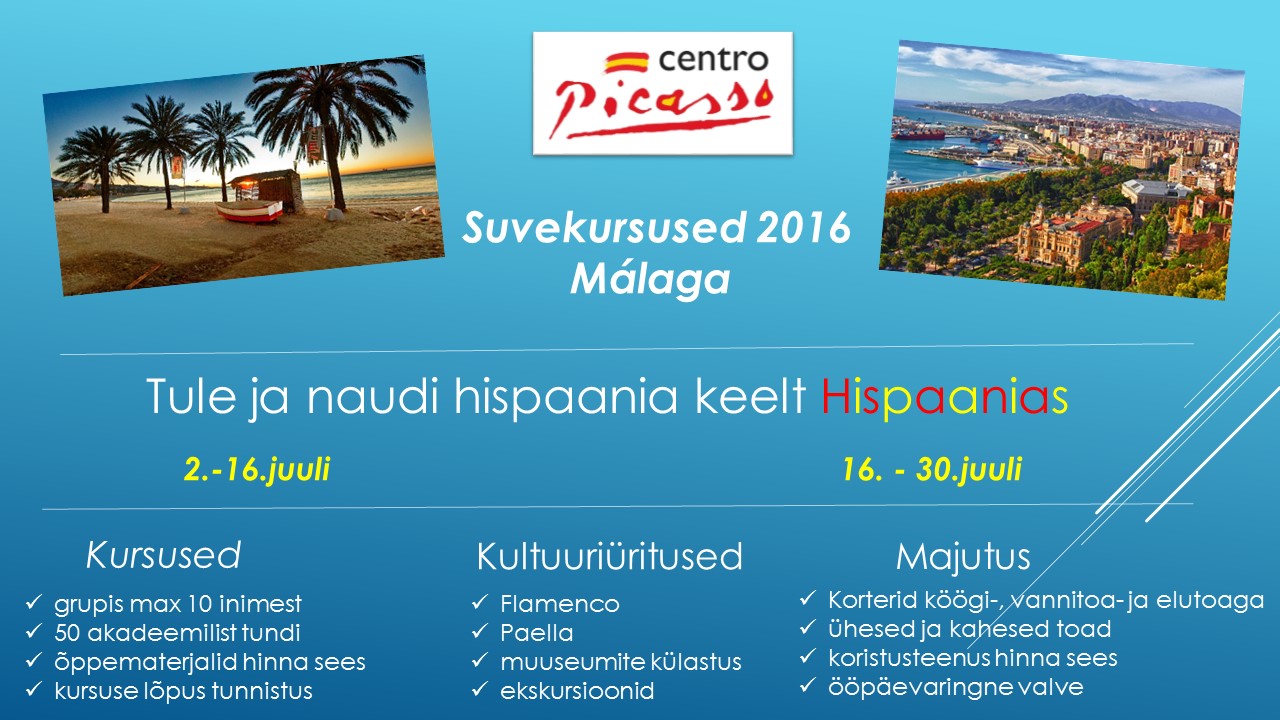 Summer course in July 2016 in Spain, Málaga
Centro Picasso organized in last 12 years summer courses in Burgos, Salamanca and Alicante. This year 2016 summer cources will take place in Malaga
Town
Located in La Costa del Sol with 570.000 inhabitants. One of the oldest towns in Europe. The air temperature in July + 20 to 30 degrees. Beach area is total 161 km.
School and lessons
Language classes are held at the Institute Portada Alta, which is located 100 meters away from accommodation
Three levels of language,

basic course, intermediate and advanced
Maximum of 10 students

in class

50 academic hours during two weeks

Lessons from 9:30-13:30 (breaks planned)

Centro Picasso books

Spanish teachers who are native speakers

Certificate
Accomodation
Course accommodation in the region of Chapor, with good connections to the town center and beach.
Three-room apartments

Single and double rooms

Bathroom, living room and kitchen

Laundry facilities, a cleaning service, Internet, restaurant, room security 24 hours

Afternoon activities
Afternoon activities
After school many interesting activities planned: a guided city tour, museums, theater, cookery courses, wine house, flamenco, paella, beaches, etc. All those to know the local culture and gastronomy and of cource language practice with local people.
Dates and prices
2- 16 of July
16-30 of July
620€ Centro Picasso students (accomodation in a double room)
685€ Centro Picasso students (accomodation in a single room)
775€ for students coming from outside the Centro Picasso
Tickets and food are not in the price
Cooking facilities in apartments
Weekend tours (not included in the price)
Ronda: in the heart of Serrania de Ronda only 100 km from Malaga you will find the beautiful white village, which is surrounded by large valleys. Every person who has visited Ronda and admired the spectacular views, understands its attractiveness. Ronda is one of the most beautiful and most visited villages in Spain (the third most visited in Andalucía).
Granada: Grananda has Arabic flavor, because it was the last town that was conquered by the Catholic kings in 1492. You find Granada cuisine, crafts and urban image in every step of the town's glorious history. Fountains, views, gardens, courtyards all of them are characteristic of Granada, creating unforgettable experiences.
During the course we take care of you:
Centro Picasso teachers
Course coortinator: Raúl Ramiro
Phone 24h
+34 679 57 13 61
+372 520 95 97 (whatsapp)
Public transport and phone cards, tours, car rent
See you in Malaga!